The Ultimate Golf Instruction Guide: Key Techniques for Becoming a Zero Handicap Golfer or Better

by Patrick Leonardi
With this book, you will learn:
The 8 essentials of the zero handicap or better golf swing, Proper course management that is easy and highly effective, The short game and long game routine of the zero handicap or better golfer, An innovative way to play the short game, What part of the green to hit to on approach shots depending on distance, How to practice most efficiently to become a zero handicap golfer or better, A foolproof way to figure out how far to hit shots crosswind, downwind & upwind, The mental aspect, common golf myths & prevention from injury, How to play your best in golf tournaments, Nutrition hints for helping your golf game, Which strength training exercises to use to increase clubhead speed even further and more...
Pub. Date: 2005
ISBN: 1933023090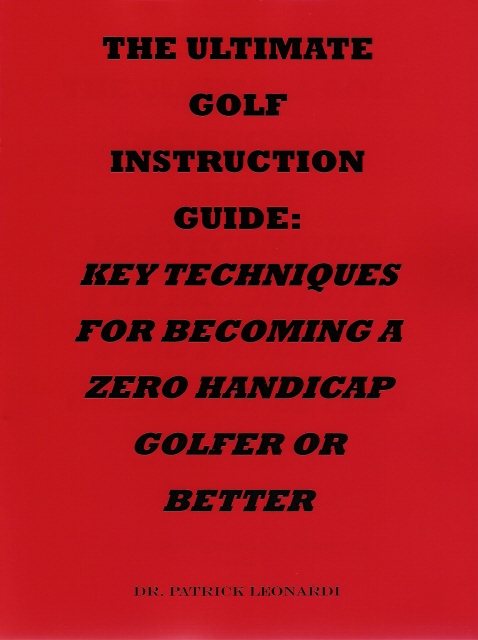 Dr. Patrick Leonardi can show you the way to ultimate golf performance. He scores consistently in the sixties. He is not a low-to-mid handicap teacher like many golf instructors. He knows what it takes to shoot in the low sixties because he has done it. Shooting low scores do not have to be fantasy anymore. His techniques are easy to learn and will put more enjoyment back into your game. Whether you are a beginner or advanced golfer, male or female, this book can help you tremendously.
From the author:
I discovered the techniques described in the book through many years of trial and error. I want to share with all golfers around the world how my technique may help them. I have a goal of helping my readers reach their potential and make golf much more enjoyable. I want to make a difference. All the best. Patrick Leonardi
TESTIMONIALS
"It is a great book with full of great information." Enrico Degiacomi, Switzerland
"Extremely Helpful Book for Any Golfer." A.S., Connecticut
"Very Good Instruction." R.R., Missouri
"Book Excellent A +" Ray M., New York
"Great Product." V. N., California
"I found this book to be very helpful in improving my game - so much so that I have performed a theoretical analysis of the golf swing advocated by Dr. Leonardi...Not only was I hitting the ball greater distances but also much straighter and it seemed with somewhat less effort." Moran Coxon, Ph.D., Assoc. Prof. Aerospace & Mechanical Engineering, University of Arizona.
"Great Book" U.G., Florida
The Ultimate Golf Instruction Guide: Key Techniques for Becoming a Zero Handicap Golfer or Better


$56.96


ISBN: 1933023090, Pub. Date: 2005