National Board of Chiropractic Physiotherapy Study Guide: Key Review Questions and Answers
by Patrick Leonardi
isbn:0974328758, Pub. Date: 2018, Paperback
This is a best-selling study guide for the Physiotherapy National Chiropractic Board Exam. This book is a must for any chiropractic student or doctor of chiropractic taking the Physiotherapy Exam. Silver Educational Publishing is also offering study guides for Part I, II, III, and IV of the National Chiropractic Board Exams. Thousands of students have used these books as a part of board exam preparation. To get more information on study guides for Part I, II, III, and IV, click on the link on top that says, Chiropractic.
Dr. Patrick Leonardi has written over 60 study guides since 1995. His study guides have helped thousands of students achieve better grades in less time and effort. The author has a talent for focusing on the similar key questions that are asked on exams.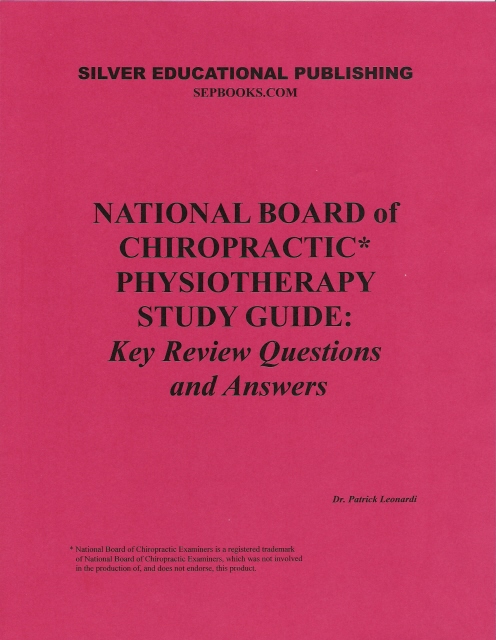 National Board of Chiropractic Physiotherapy Study Guide: Key Review Questions and Answers


$99.98


ISBN 0974328758

---
Disclaimer of Warranty and Limit of Liability:
The publisher and author have utilized great diligence and care in creating these books. However, the publisher and author make no representations or warranties with regards to the completeness or accuracy of the contents of these books and specifically disclaim all warranties, express or implied, including implied warranties of merchantability or fitness for a particular purpose. No warranty may be made or extended by written sales material or by salespersons or representatives of this company. The opinions of the author and the correctness and completeness of the information presented in this book are not warranted or guaranteed to produce any particular, general and/or specific results. Any information, suggestions, recommendations, advice, information and strategies contained in these books may not be appropriate for every person. Neither the author nor publisher shall be liable for any loss of profit or any other non-commercial or commercial damages, including but not limited to consequential, incidental, special, or other damages. Neither the publisher nor author assumes any liability for any damage and/or injury to persons or property arising from these books.
National Board of Chiropractic Examiners is a registered trademark of National Board of Chiropractic Examiners, which was not involved in the production of, and does not endorse, this product.