Microbiology Study Guide: Key Review Questions and Answers

by Patrick Leonardi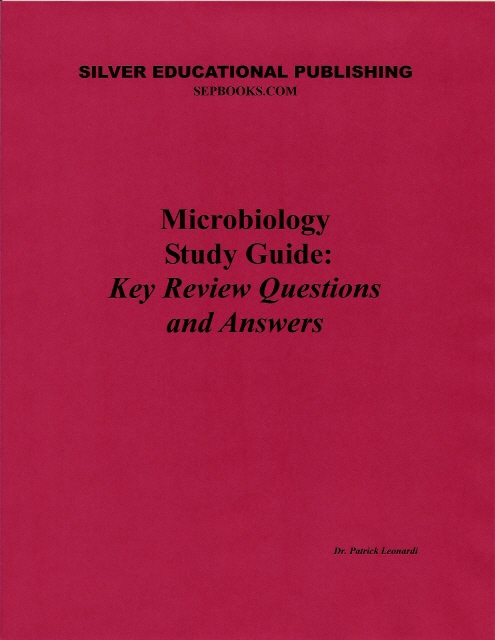 isbn: 0971999635, Pub. Date: 2010, Paperback: 81 Pages
* This effective reference for test preparation is utilized by countless students across the country.
Testimonials:
The questions really helped me on my exams for my undergraduate microbiology course and helped to reinforce the major concepts. Microbiology Student, South Bend, Indiana
"Questions in this book are very similar to the ones the teachers give..." Microbiology Student
"I used this review for a microbiology class this past summer, the questions are relevant." Microbiology Student
"Great Study Guide, helped me to get an A in microbiology." K.O. (Microbiology Student), California
"Wonderful Product." L.I. (Microbiology Student), New Jersey
This test preparation study guide is the best in the industry. It is designed for students taking undergraduate microbiology as well as students of medicine, chiropractic, osteopathy, nursing, podiatry, optometry, and allied health sciences. Topics include the following: Bacterial Structure, Prokaryotic Bacteria, Gram Positive Bacteria: Staphylococci & Streptococci, Gram Negative Bacteria, Bacterial Growth Curve, Bacterial Metabolism, Bacterial Genetics & Mutations, Influence of Environmental Factors on Microorganisms & Their Nutritional Requirements, Antimicrobial Chemotherapy, Microbial Flora, Pathogenicity of Bacteria, Signals of Bacterial Infection, Immunology & Host Mechanisms of Defense Against Bacteria, Neisseria, Clostridium, Mycobacteria, Corynbacteria, Enterics, Chlamydia, Rickettsia, Mycoplasm, Viruses, Parasitology, Helminths: Nematodes, Cestodes & Trematodes, and Mycology.
Dr. Patrick Leonardi has written over 60 study guides since 1995. His study guides have helped thousands of students achieve better grades in less time and effort. The author has a talent for focusing on the similar key questions that are asked on exams.
Microbiology Study Guide: Key Review Questions and Answers
$56.95
ISBN 0971999635
---